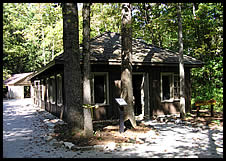 Available by reservation only, CCC Recreation Building is a historic enclosed shelter with a long and interesting past. The shelter seats 75 people with 2 picnic tables outside and 14 folding tables and 75 folding chairs inside.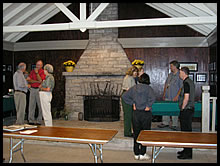 The building also offers 100 amp electrical service with 12 outlets, drinking water, a group grill, new commercial range, refrigerator, 3 sinks and a modern toilet. There is a fireplace inside for heating only, though you must bring your own wood. Additional modern restrooms are just a short walk down the road at the Canyon Inn or at Stoney Restrooms.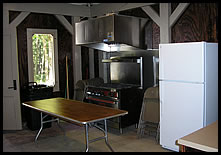 There is parking for about 5 vehicles located near the shelter, which is directly in front of Trailside Shelter. There is also a parking lot with space for 25 vehicles across the road in front of the Recreation Center and Camp Store.
In its long history the CCC Recreation Building served first as an open shelter for Purdue University civil engineering students. It was later enclosed by the Civilian Conservation Corps (CCC) and used as their recreation hall during their stay at McCormick's Creek from 1933 to 1935.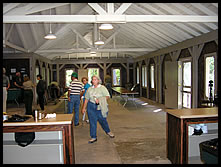 Upon the departure of the CCC the building was changed into the park's "Nature Museum". When the Nature Museum closed in the 1960s the shelter was sealed up, used for storage, and fell into disrepair. However, McCormick's Creek State Park staff, along with volunteers from the Friends of McCormick's Creek State Park group, restored the building and opened it as a new reservable shelter in 2004.
Click here for information on rental rates and making reservations.
Interested in other places to picnic or reserve shelters in Indiana?
Check out this great info on Indiana State Parks from IndianaOutfitters.com.