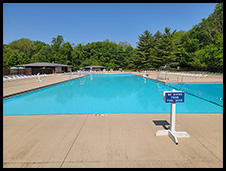 McCormick's Creek State Park is home to an ADA accessible Olympic-size swimming pool, plus a wading pool that is open to the public. (A separate and smaller outdoor swimming pool is reserved for Canyon Inn guests only.)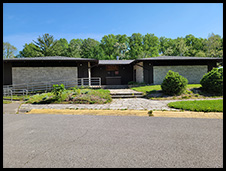 There is an ADA accessible bath house located at the entrance to the swimming pool. The bath house contains restrooms, showers, and lockers.
Also near the pool is a concession stand providing snacks and drinks.
Just to the east of the swimming pool is a very large playing field and a small playground with bench.
In addition, you can pick up Trail 8, which is paved and serves as a shortcut to the campgrounds, at the west end of the swimming pool.
Pool Operation:
Pool Use Fees:
Pool Rules:
A lifeguard is on duty when the pool is open.
All infants, toddlers or small children who are not "potty trained" shall be required to wear an elasticized swim diaper before entering the pool area.
Fecal incidents may result in closure of the pool. These closures can last from several hours to 24 hours.
For children age 12 and under to enter the pool area they must be supervised by someone age 16 or older.
Pool Concession Hours:
Same as swimming pool hours
Notice: Swimming in McCormick's Creek is prohibited.
Interested in other State Parks that might have swimming pools?
Check out this great info on Indiana State Parks from IndianaOutfitters.com.