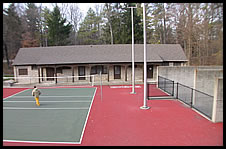 Open during the summer months, the Canyon Inn operates a Recreation Center offering racquetball, volleyball, basketball, games and much more. The Recreation Center is ADA accessible except for the racquetball courts.
Inside the Recreation Center building you will find a pool table, a ping pong table, and video games.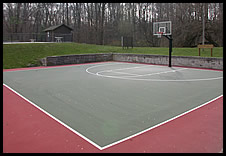 The building also houses modern restrooms and the Camp Store.
Outside the building are a fire pit and hardtop courts and areas for basketball, volleyball, racquetball, shuffleboard, and hopscotch. Some equipment (rackets, balls, etc.) is available for use at the Recreation Center/Camp Store when it is open. Limited equipment (basketballs, volleyballs) may also be obtained by Inn guests at the Canyon Inn Front Desk.
Recreation Center / Camp Store Hours:
Spring (late April - late May)
Open weekends only, except also open on Memorial Day Monday
Friday: 4pm - 9pm
Saturday: 9am - 9pm
Sunday: 9am - 1pm

Summer (late May- End of July)
Monday-Saturday: 9 am - 9 pm
Sunday: 9am - 1pm

Late Summer / Fall (August - October)
Open weekends only
Friday: 4pm - 9pm
Saturday: 9am - 9pm
Sunday: 9am - 1pm

Winter
Closed November - mid/late April

Dates and hours of operation subject to change.