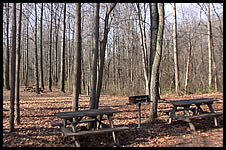 McCormick's Creek State Park is an ideal place for a day of picnicking, playing and relaxing. Throughout the park are several picnic areas with tables, grills and toilet facilities.

Some picnic areas are near playing fields and/or playgrounds. Wood is available from the Camp Store during summer months.

Large picnic areas can be found near Deer Run Shelter, Pine Bluff Shelter, and Westbrook Shelter.
RESERVABLE SHELTER HOUSES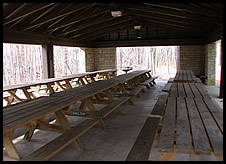 McCormick's Creek State Park has 8 reservable shelterhouses and 4 recreation buildings. They are available from 9 am to 11 pm. (Exception: Beech Grove Shelter must be vacated by 10 pm.)
Shelter houses are generally covered, non-enclosed buildings with electricity, picnic tables, grills and a parking spur. However, each shelter is different. Some shelters include drinking water, modern restrooms, fireplaces and/or playgrounds. Shelters not reserved one day in advance will be open on a free, first come, first served basis.
Recreation buildings are enclosed shelters with even more amenities, and they are available by reservation only.
Click here for information on reserving shelter houses at McCormick's Creek State Park.
Interested in other places to picnic or reserve shelters in Indiana?
Check out this great info on Indiana State Parks from IndianaOutfitters.com.